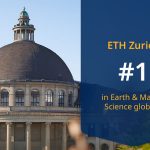 ETH Zurich
Postdoctoral position in ultrafast correlation dynamics with lasers at The Laboratory of Multifunctional Ferroic Materials
The Laboratory of Multifunctional Ferroic Materials (Prof. Manfred Fiebig) is an internationally leading research group employing nonlinear laser spectroscopy from THz to UV frequencies to highly correlated materials, including multiferroics. We experimentally investigate materials where the strong coupling between electrons promotes unusual types of ordering of its spins and charges. Our scope is the fundamental physics of these materials, yet including a perspective on their technological relevance.
Job description
The aim of the postdoctoral position is to investigate the physics of highly correlated material systems with ultrafast nonlinear optical techniques and/or terahertz-time-domain spectroscopy. Possible topics could for example be multiferroics, spin-charge coupling phenomena, antiferromagnets, photoinduced phase transitions, domain- and domain-wall phenomena. Scale-bridging approaches connecting THz and (near-) visible excitations as pump and probe techniques are of particular interest. This position offers the unique opportunity to familiarize oneself with the cutting-edge laser-spectroscopic techniques, their fundamental principles and their versatility in investigating new materials.
Your profile
The successful candidate has a PhD degree in Physics, Materials Science, or equivalent. The candidate should be highly motivated, self-organized, creative and an effective team player within an interdisciplinary environment. Good practical knowledge in optics with an experience of building optical setups from scratch is mandatory. Hands-on experience with pulsed-laser spectroscopy and/or terahertz sources and their assembly is particularly appreciated. A solid background in condensed matter physics is desirable, and elementary knowledge of analytical programming in Matlab/Python would be beneficial. Proficiency in spoken and written English is essential. If you have an urge on understanding physical phenomena at their roots, and if you prefer a pragmatic, unconventional and effective research style with a keen eye for what is really new and interesting, you should apply.
We look forward to receiving your online application with the following documents in a single PDF document:
Letter of motivation
CV, including a list of publications and presentations
Copy of transcripts documenting educational background
Please note that we exclusively accept applications submitted through our online application portal. Applications via email or postal services can not be considered. The screening for this full-time position will begin immediately and remain open until we find a suitable candidate.
Further information about the Laboratory of Multifunctional Ferroic Materials can be found at www.ferroic.mat.ethz.ch. Questions (no applications) regarding the position should be directed here.