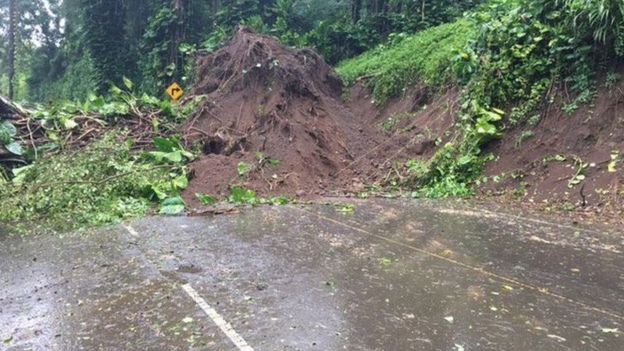 Hurricane Lane has been downgraded to a tropical storm as it churns towards Hawaii, but is still causing flash flooding and landslides.
Schools and offices were closed as residents took shelter from the storm, which pummelled the US state with strong winds and torrential rain.
But Hawaii looks was spared its first direct hit by a major storm in 25 years.
President Donald Trump earlier declared a state of emergency for the state.
The White House said federal authorities were on standby to provide support and supplies to local and state emergency response efforts.
The Central Pacific Hurricane Center said early on Friday afternoon Hurricane Lane was "weakening quickly", with sustained winds of 85 mph (137km/h).
By 17:00 local time (03:00 GMT Saturday), the sustained wind speed had dropped to 70 mph, although "more flooding and damaging winds" were expected on parts of the islands.
Weather Service forecaster Leigh Anne Eaton said some parts of Big Island had already seen almost 3ft (90cm) or rain.
Meanwhile, the National Weather Service said there had been "catastrophic flooding" and wind gusts reaching 67mph (108 kmph).
Federal Emergency Management Agency (Fema) chief Brock Long took to Twitter to warn those in Hawaii to "heed the warnings of local officials and stay aware of your surroundings" until the danger had passed.
Amidst concerns of the approaching storm, emergency personnel responded to "rapidly spreading" brush fire in western Maui.
The fire has prompted highway closures, power outages and precautionary evacuations.
Lane was also forecast to cause dangerous surf heights of up to 25ft (7.6m) in Maui and Oahu.
Officials warned of "significant beach erosion" and waves hitting coastal roadways.
Source: https://www.bbc.com/news/world-us-canada-45292032
.