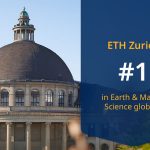 ETH Zurich
PhD student position in brain vascular biology, to discover how angiogenesis and the perivascular cells of the neurovascular unit are regulated
The research groups «CNS angiogenesis and neurovascular link» within the Neuroscience Center Zurich (University Zurich, University Hospital Zurich, and ETH Zurich), the «Laboratory for Exercise and Health» within the Department of Health Sciences and Technology (ETH Zurich), and the Functional Genomics Center Zurich of University Zurich and ETH Zurich, are seeking a PhD student in brain vascular biology.
Project background
The main task of the candidate will be to discover how angiogenesis (the growth of blood vessels) and the perivascular cells of the neurovascular unit are regulated during brain development, in brain tumors, and in brain vascular malformations.
Glioblastoma are amongst the most deadly human cancers with a mean survival of only around 15 months. A typical feature of these tumors is their high grade of vascularization which is established by angiogenesis. However, therapeutic approaches targeting angiogenesis in glioblastoma showed only poor outcome so far. The main reason herefore is that the cellular and molecular mechanisms regulating angiogenesis within brain tumors are very complex and remain poorly understood. Brain arterio-venous malformations are morphologically abnormal connections between arteries and veins in the brain vasculature. They lack an intervening capillary bed allowing high-pressure arterial blood flow from feeding arteries to shunt directly into the venous outflow system and rupture of arterio-venous malformations is associated with significant morbidity and mortality. Aberrant angiogenesis is a key pathophysiological feature of brain arteriovenous malformations and targeting angiogenesis has a great therapeutic potential. The underlying cellular and molecular mechanisms regulating angiogenesis within brain arterio-venous malformations are highly complex but very poorly understood.
For both angiogenesis-dependent CNS pathologies, in addition to classical endothelial signaling pathways such as the Vascular Endothelial Growth Factor (VEGF) – VEGF Receptor (VEGFR) axis, new molecular pathways and thus therapeutic targets arise from the blood vessel microenvironment, also called the perivascular niche or neurovascular unit. In the healthy adult brain, blood vessels are mostly quiescent with only < 0.5% of endothelial cells proliferating. Importantly, in many angiogenesis-dependent brain pathologies such as brain tumors or brain vascular malformations, blood vessel growth is reactivated during disease initiation or progression, at least in part by up-regulating signaling pathways that are important for developmental brain angiogenesis and for recruitment of perivascular cells of the neurovascular unit. To that regard, using unbiased system biology approaches and bioinformatic analyses of the above-mentioned human pathologies, novel and yet completely unknown angiogenic signaling pathways will be identified. Moreover, the novel and highly interesting concepts of neurovascular link (common regulation of blood vessel- and neuronal growth) and endothelial metabolism will be explored.
The overarching aim of the collaborative efforts of our groups is to understand how angiogenesis and the neurovascular unit/perivascular niche are regulated in brain development, brain tumors, and brain vascular malformations.
Job description
We offer working on highly original and translational projects regarding angiogenesis and the neurovascular unit/perivascular niche in brain development and brain tumors. The aim is to significantly improve the understanding and therapeutic modulation of the cellular and molecular mechanisms that govern angiogenesis and the neurovascular unit/perivascular niche during brain development, in brain tumors, and in brain vascular malformations. Our young and interdisciplinary team tackles these questions using a highly interdisciplinary and translational approach including the combination of various in vivo and in vitro techniques and the combination and comparison of mouse and human tissues and cells.
Successful candidates will work under the direct supervision of Dr. Dr. Thomas Wälchli in close collaboration with other PhD-students and postdoctoral fellows in the research groups.
The position is to be filled immediately, for three to four years. Conditions according to Swiss National Science Foundation.
Your profile
To investigate the above-described projects, the candidate will use a variety of in vivo mouse models as well as a broad spectrum of in vitro molecular biology, cell biology, and biochemical assays using mouse and human endothelial and perivascular cells. A central component of the project will be the evaluation and interpretation of large-scale molecular data using latest bioinformatics tools and strategies. Therefore, excellent training in biology and a MSc in neuroscience, biochemistry or molecular biology with experience in and enthusiasm for molecular- and cell biology, biochemistry, and animal experiments are required. Existing knowledge of bioinformatics and biostatistics is considered a strong plus.
To tackle the above-mentioned high risk-high potential projects, candidates should demonstrate overwhelming enthusiasm for neuroscience, vascular biology, and tumor biology. Moreover, the candidate should be highly motivated and display a flexibility with regard to experimental (combination of various in vivo and in vitro experiments of human and mouse tissues) and organizational (the candidate will work between the Toronto Western Hospital, University Health Network and the University of Toronto and the University Zurich, the University Hospital Zurich and ETH Zurich) issues. Therefore, we feel that only very dedicated, motivated, and talented persons will be able to successfully work on the above-described, highly novel and translational projects with the potential to significantly enhance our current knowledge on brain-, brain tumor-, and brain vascular malformation biology.
Finally, the candidate should have the ability and self-motivation to work both independently and as a team player and should demonstrate good communication skills (German is not required, English is mandatory).
Interested?
We look forward to receiving your electronic application in one PDF. It should include a cover letter stating your motivation for this position, a comprehensive CV including (potential) publications, your academic record including copies of degree certificates, and two references (including names and contact details).
For further information, please contact Dr. Thomas Wälchli; thomas.waelchli@usz.ch (no applications). Please note that we exclusively accept applications submitted through our online application portal. Applications via email or postal services will not be considered.